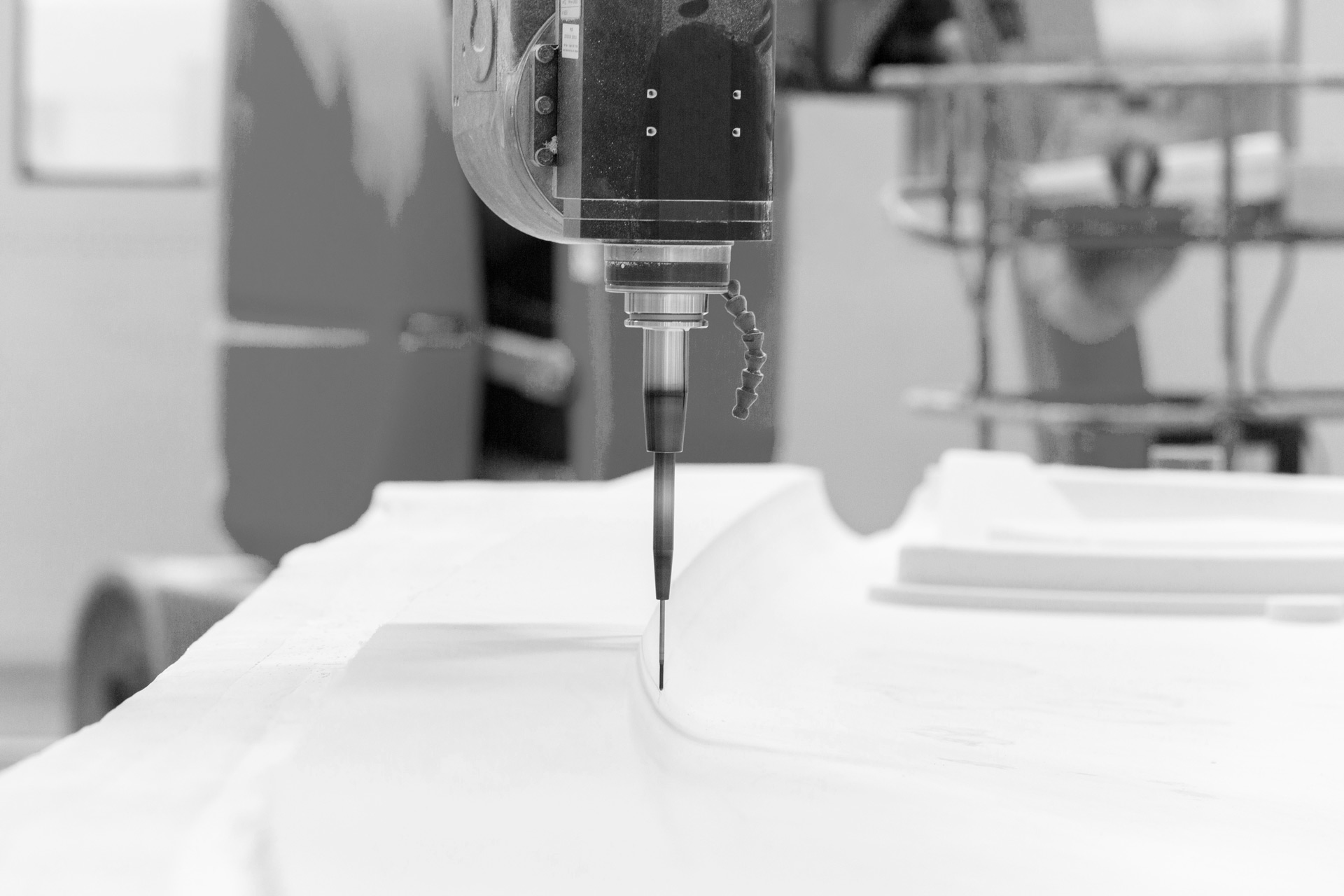 CONSTRUCTION OF THE CARBON DECK HAS BEEN LAUNCHED IN THE FACILITIES OF MULTIPLAST, VANNES, FRANCE, A YACHT BUILDER RESPONSIBLE FOR THE CONSTRUCTION OF THE MOST ADVANCED RACING YACHTS.
THE DECK MOULD OF THE 15M YACHT HAS BEEN MACHINED IN ONE OF EUROPE'S LARGER CNC MACHINE AND TRANSPORTED BY TRUCK TO MULTIPLAST WHERE LAMINATION OF THE CARBON FIBRE REINFORCEMENTS WILL NOW START.
WE ARE PROUD TO BE DESIGNING THIS PROJECT FOR THE CREW OF ELAN GER 1950 SKIPPERED BY DANIEL BAUM, MANAGING DIRECTOR OF PANTAENIUS, SAID DESIGNER THOMAS TISON. ONCE LAUNCHED, THE YACHT WILL TAKE PART IN THE IRC AND ORC OFFSHORE AND INSHORE REGATTAS, AS WELL AS BEING USED FOR FAMILY CRUISING.
THE TIMBER HULL HAS BEEN BUILT AT JAN BRUEGGE BOOTSBAU IN ARNIS, CLOSE TO GERMANY'S BALTIC COAST. CONSTRUCTION OF THE CARBON STRUCTURE, SYSTEMS, FINISHING AND INTERIOR ACCOMMODATION ARE NOW UNDERWAY WITH A PLANNED LAUNCH FOR SPRING 2019.
THE OWNER'S MAIN VISION WAS TO BUILD A TRUE RACER CRUISER USING TIMBER AS A CONSTRUCTION MATERIAL FOR THE HULL AS OPPOSED TO MIMICKING SOMETHING FROM THE PAST. TIMBER HAS A LOT GOING FOR IT WHEN SELECTED AND ENGINEERED TO MAKE THE BEST OF IT. IT ALLOWS THE CONSTRUCTION OF REALLY UNIQUE, HAND CRAFTED AND OFFSHORE CAPABLE YACHTS WHICH CAN BE SCALED UP TO ANY SIZE SAYS DESIGNER THOMAS TISON.
THE ADVANCED TIMBER AND CARBON CONSTRUCTION RESULTS IN A DISPLACEMENT OF 7.8T, THUS PLACING THE YACHT IN LINE WITH COMPETITIVE IRC AND ORC RACING YACHTS. THE YACHT IS ALSO FITTED WITH A VERTICALLY LIFTING KEEL, RETRACTABLE PROPULSION SYSTEM AND WATER BALLASTS.
ALL PICTURES BY EMERIC JEZEQUEL WWW.EMERICJEZEQUEL.COM