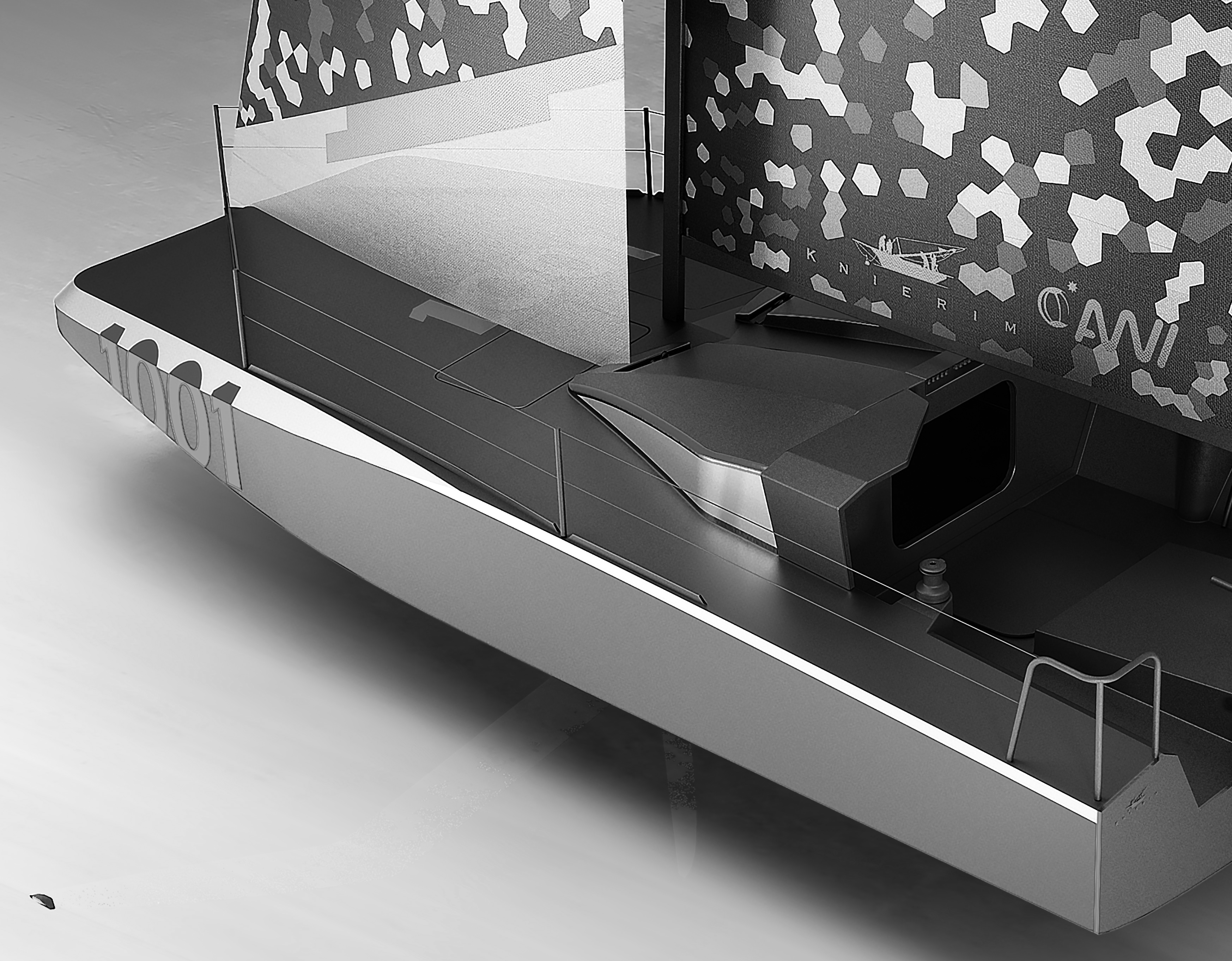 PART THREE – WHAT IS NEXT
THIRD PART OF 3 PART SERIES LOOKING AT SCOW HULL SHAPES.
PART 1 AND 2 WERE SHORTER VERSION OF THE ARTICLE 'NEW DESIGN PARADIGM' PUBLISHED IN 2011 IN SEAHORSE MAGAZINE. NOW TIME TO LOOK AT WHAT IS NEXT.
In the Mini 6.50 Class, 6 scow hulls were built to date in the prototype category with noticeable differences in terms of bow width, bow overhang, hull sections and even general philosophy.
– Raison chose an avenue with a rounded bow and quite a high chine
– Neyhousser has integrated a slightly narrower bow and a more refined sheerline, otherwise keeping the same philosophy
– Bertrand has chosen quite a different path, creating a false bow on each tack similarly to the dual shape approach described in the prepvious parts
– Verdier has gone for a flatter hull shape, without the dual hull shape approach described previously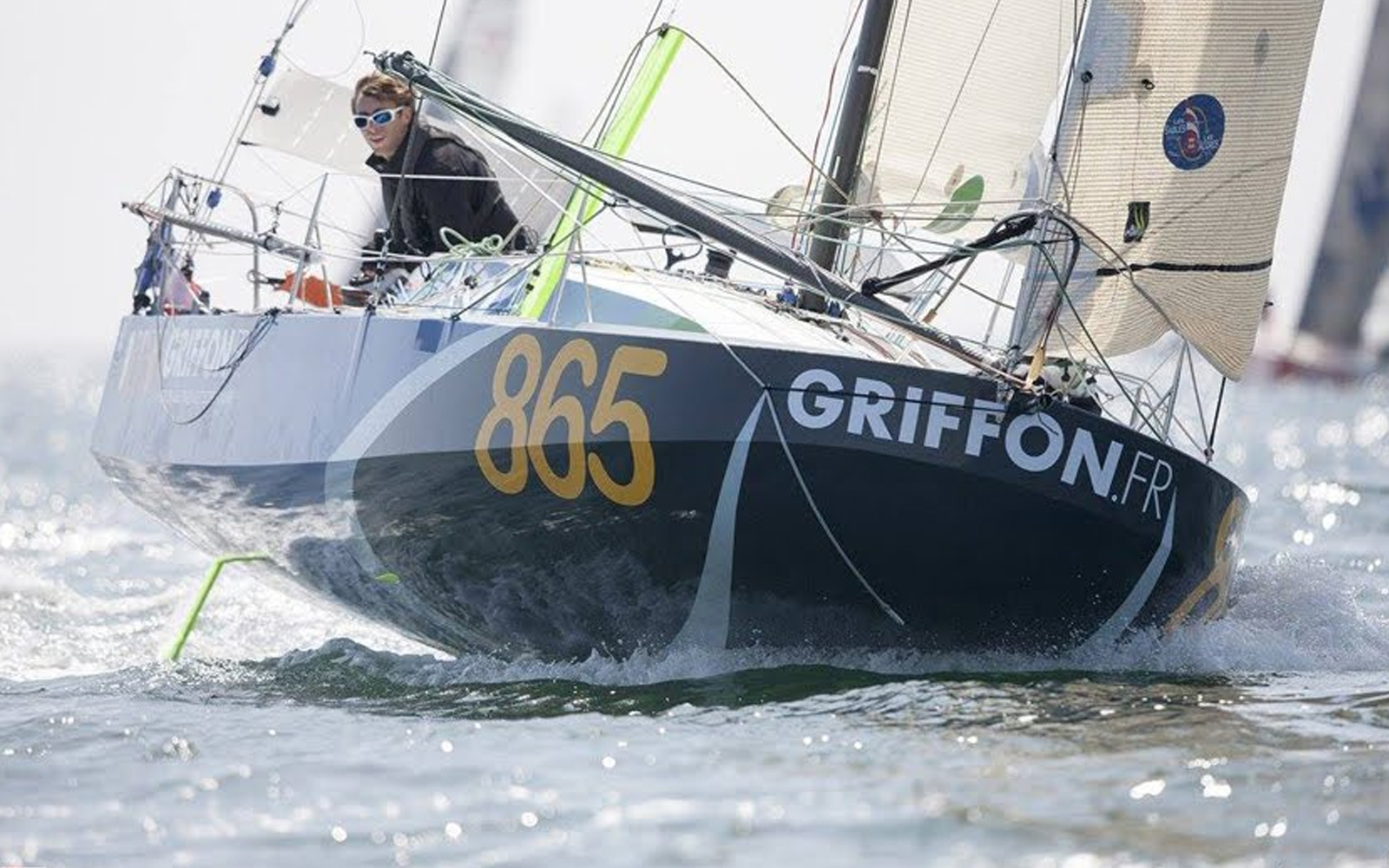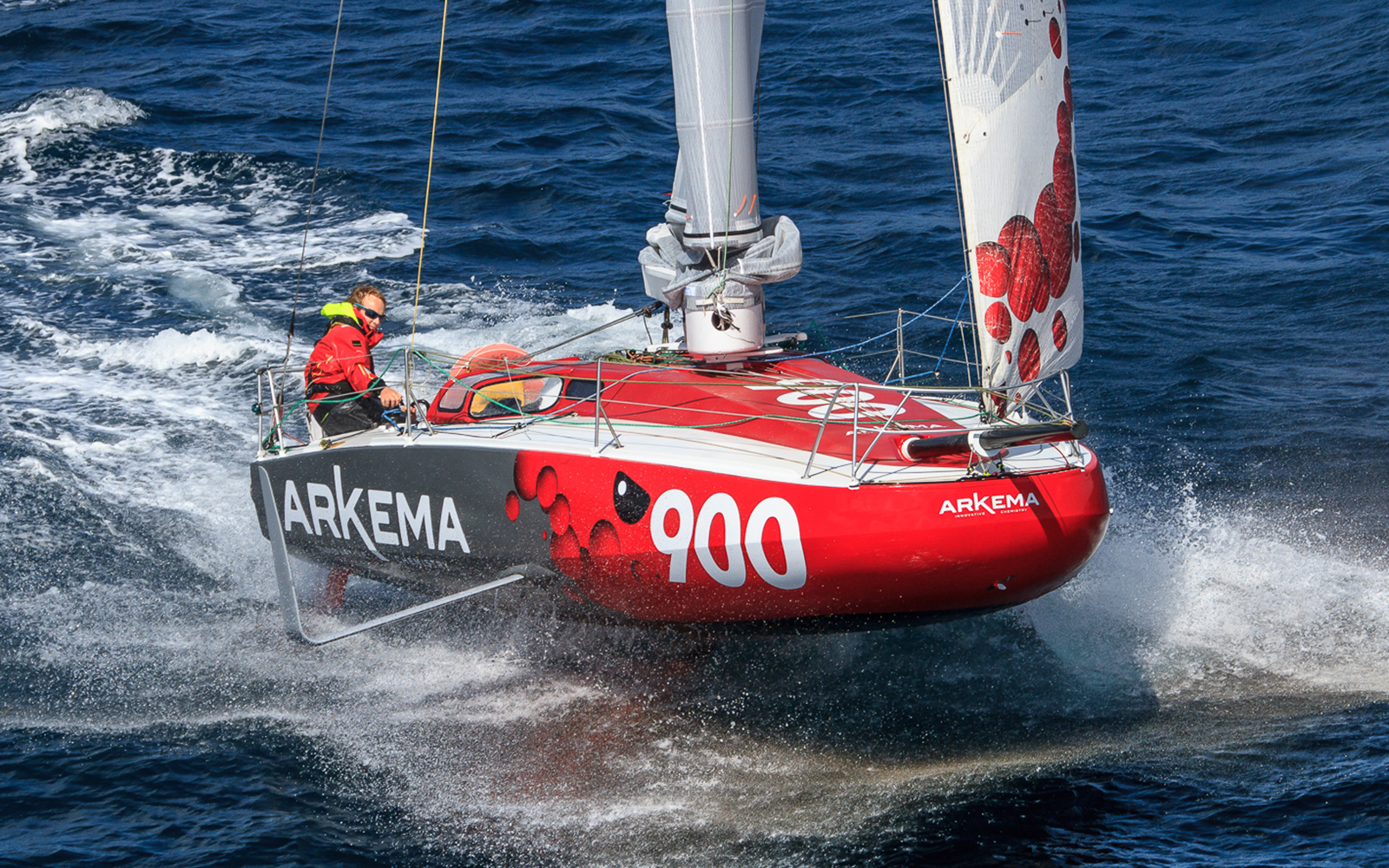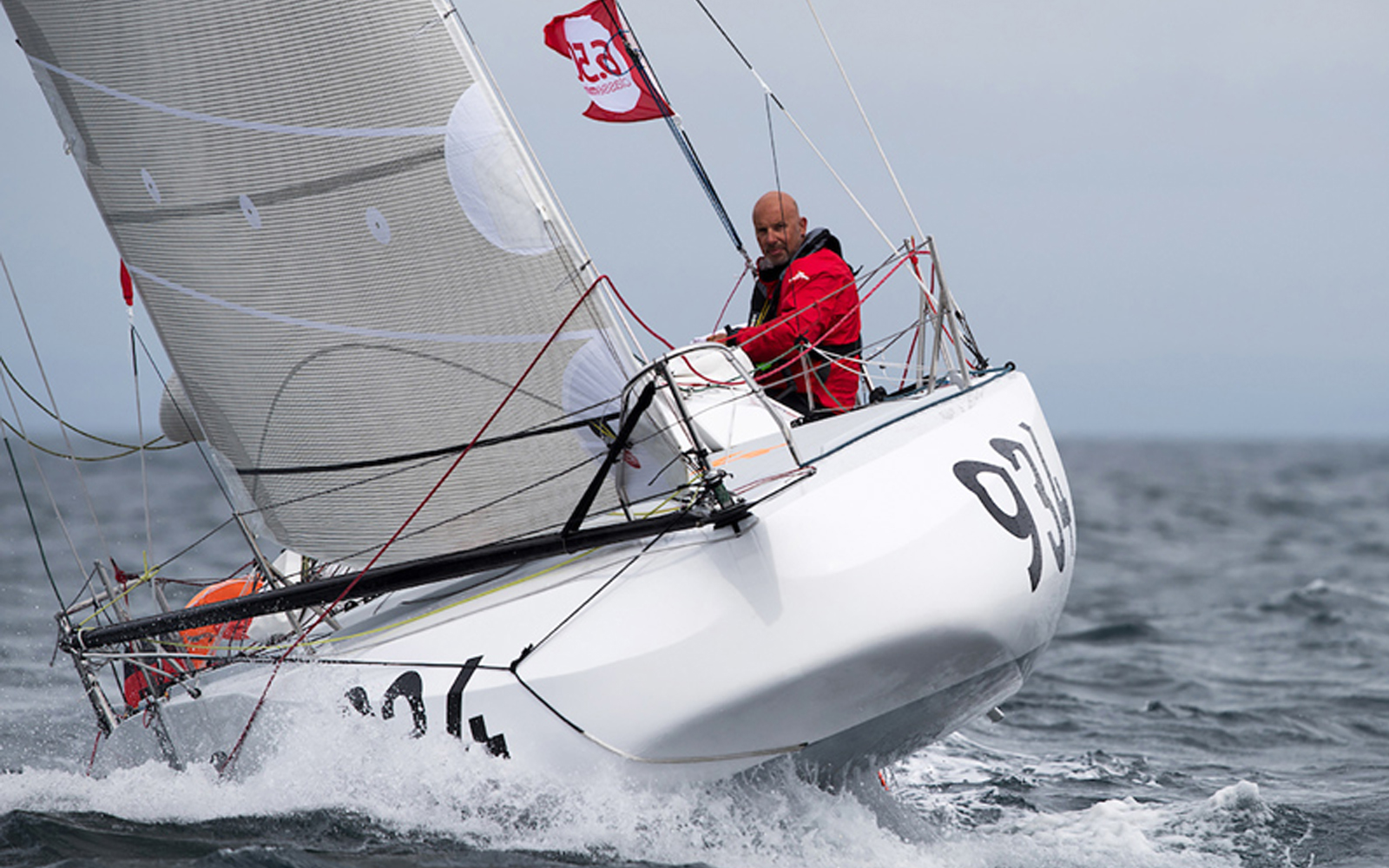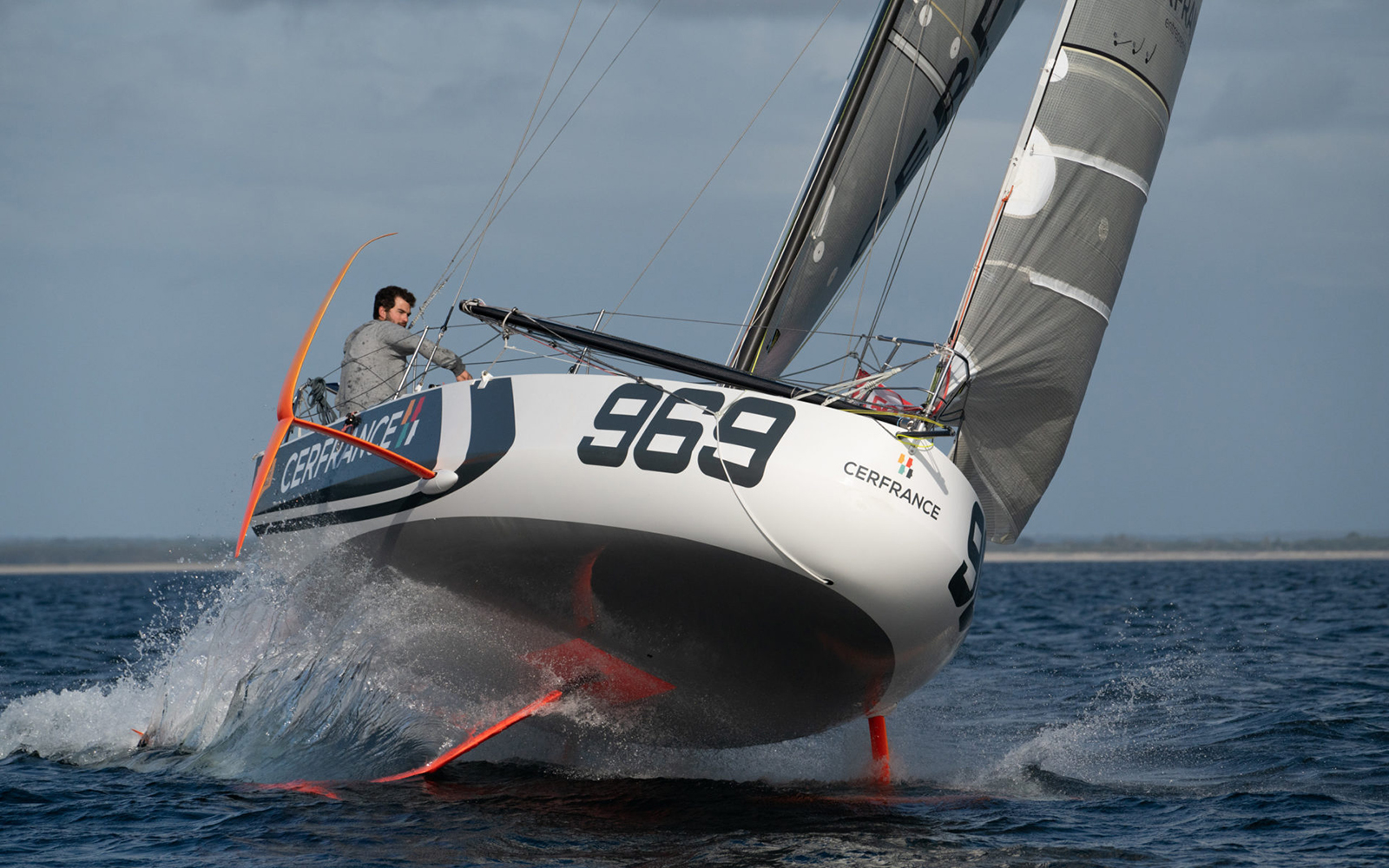 With foiling appearing, several other modes must now too be accounted for:
– full flight
– skimming
– transitions (take off, landing, crash)
The priority given to these three factors has direct consequences on the hull shape.
THE IMPACT OF FOILING ON HULL DESIGN
The brief for our Mini 6.50 was clear: the boat should foil. Early on, analysis showed that take off speed was important as foils incur a weight penalty. The earlier the boat can jump onto its foil, the better. Being an offshore yacht, the influence of foiling transitions on the overall result is small with only around 20 gybes to cross the Atlantic. Assuming transitions have a small influence on hull design relies on a foiling platform which is dynamically stable when flying, this is something we have treated with care.
In terms of foiling though, we found that the main constraint is the 3m boat width when foils are stored. It indirectly enforces a limit on flight height when foils are deployed, and a relatively low flight height. The deeper the hull, the more likely waves are going to disturb flight.
Having pushed keel design to a canting angle above 50 degrees – with the keel head almost touching the hull inner skin when canted – the target heel angle is lower than previous boats.
When all these factors are accounted for, the result is a hull with rather flat sections to favour early planing and then take off from the foils. The philosophy is to let the hull clear from waves for as long as possible. And sail in scow mode when foiling is not efficient.
The hull still has to be manageable when not foiling and for this reason sections were drawn with some curvature inboard of the chine.
AN EXTREME BOW
While tacks and gybes did not have an impact on hull design, it is a given that with foiling, inevitably, the boat will come crashing down bow first. We therefore worked to reduce bow volume to minimise the decelerations. It improves comfort, but can also reduce loads on the rig and in other parts of the structure.
The flatter section, lower target heel angle, chase for weight saving have lead us to the bow you see.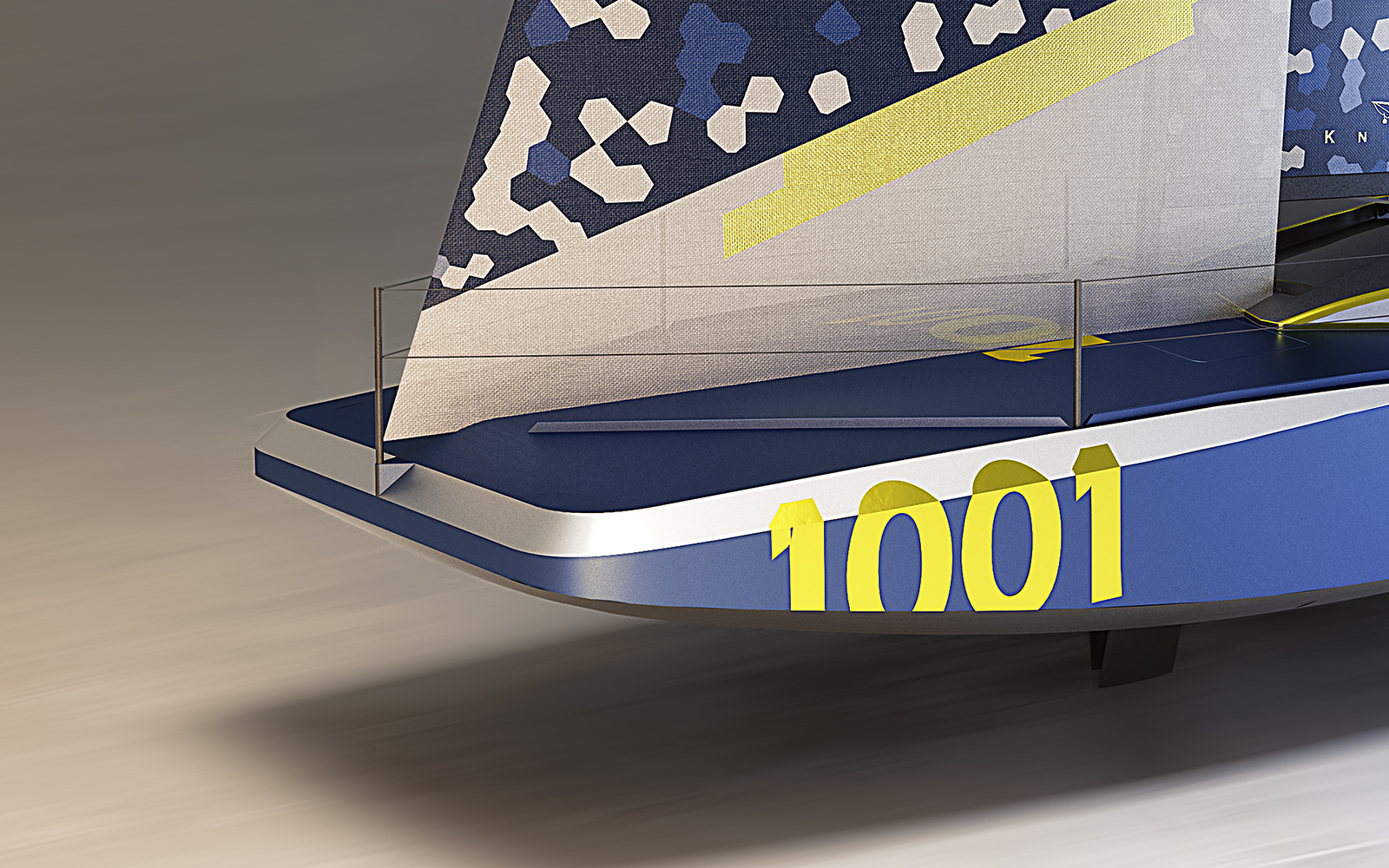 WHAT IS NEXT THEN?
There are various avenues.
In the far future depending on rule changes (autopilot, flight control system, etc…) if foiling becomes a near full time sailing mode, hulls could become narrower. Mini 6.50 are however quite heavy for their length and structural weight is small in comparison to other classes as the loads are small and a lot of equipment is carried on board. In short, the incentive to reduce hull and deck developed areas is not huge.
Closer to us, as more boats are built with foiling capabilities, and if competition intensifies, hull shape will in turn become more of a factor than foils and transitions may again start to prevail.

LEARN MORE ABOUT OUR MINI DESIGN HERE
CHECK OUR DINGHY SCOW EXPERIMENT HERE
SEAHORSE MAGAZINE HERE