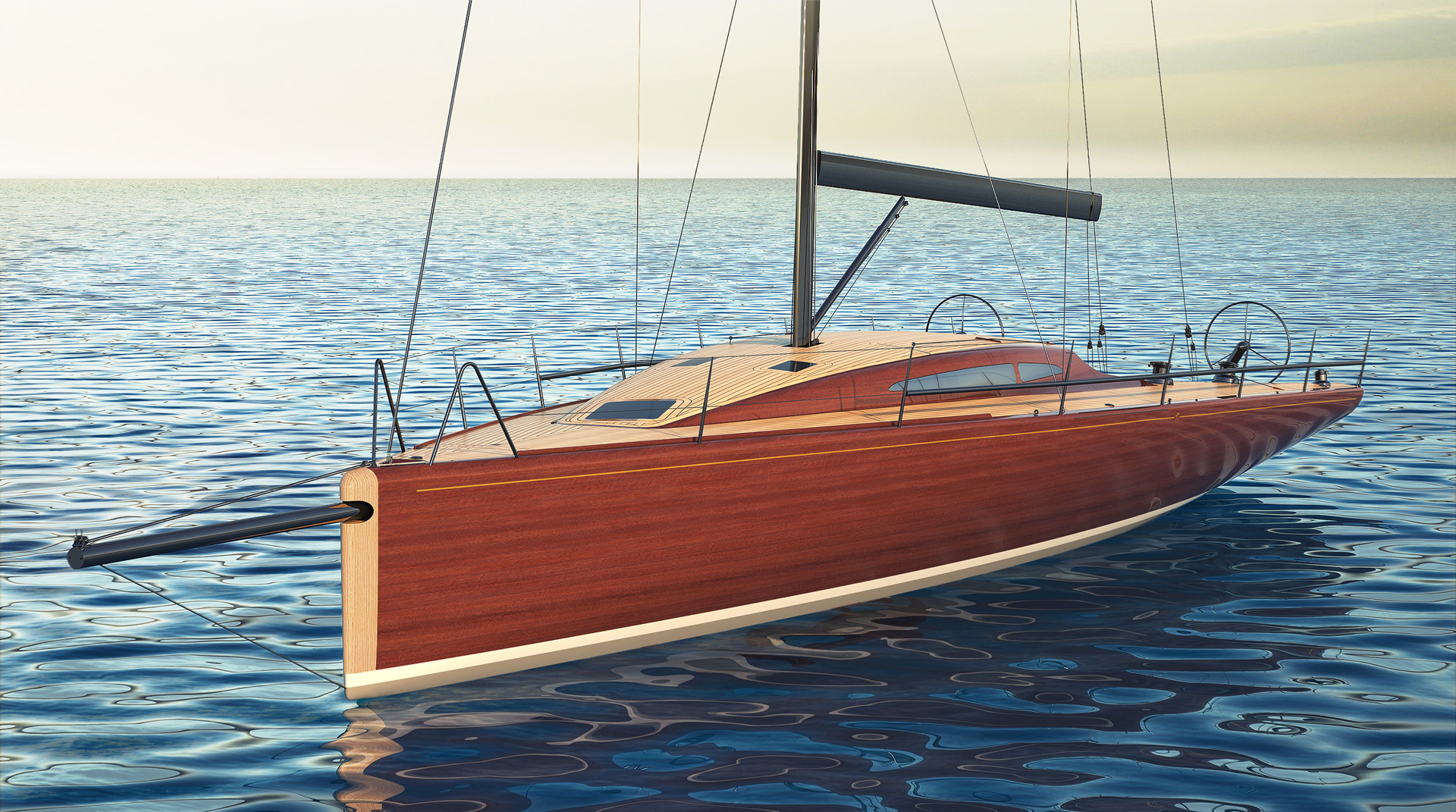 TWO OVER-ARCHING PHILOSOPHIES UNDERPIN THE DEVELOPMENT OF THIS YACHT.
THE FIRST IS A BOUNDLESS QUEST FOR REFINEMENT AND ATTENTION TO DETAIL.
THE SECOND IS LONGEVITY, AN ESSENTIAL ELEMENT IN A FAMILY YACHT THAT NEEDS TO PROVIDE THE ULTIMATE IN ENJOYMENT AND PRIDE OF OWNERSHIP FOR FUTURE GENERATIONS.
ELIDA IS OUR INTERPRETATION OF THE OWNER'S BRIEF FOR A FAMILY RACER CRUISER INSPIRED BY THE GERMAN H DINGHIES AND HIS LOVE FOR CLASSIC YACHTS.
ALL OUR PROJECTS START FROM A BLANK PAGE AND WE ARE EXTREMELY PROUD TO ENABLE THE VISION OF OWNERS.
THE AIM OF THIS PROJECT WAS TO BUILD A TRUE OFFSHORE RACER CRUISER AND USING TIMBER AS A MODERN MATERIAL. WE HAVE DEVELOPED A HIGHLY OPTIMIZED CONSTRUCTION METHOD, RESULTING FROM MATERIAL TESTING AT AIRBUS AND SIGNIFICANT DEVELOPMENT IN THE SELECTION OF TIMBER AND ADHESIVE TO REACH A HULL WEIGHT OF LESS THAN 1T.
THE SPECIFIC HYBRID CARBON FIBRE CONSTRUCTION, CREATES AN INTERIOR WHICH IS MORE ARCHITECTURAL THAN COSMETIC.
THE RESULTING DESIGN IS STRIKINGLY UNIQUE. A NOVEL LIFTING KEEL SYSTEM WAS DEVELOPED WHICH ALLOWS REDUCING DRAFT FROM 3.2 DOWN TO 2.5M, AND AN OPEN PLAN INTERIOR LAYOUT WAS DEVELOPED WHICH WILL PROVE SPACIOUS AND COMFORTABLE WHEN CRUISING.
ADVANCED DECK LAYOUT SOLUTIONS WERE DEVELOPED TO PROVIDE COMPETITIVE GAINS WHEN RACING SUCH AS A SPINNAKER RETRIVER SYSTEM, ADVANCED VANG AND JIB DYNAMIC CONSTROL SYSTEMS.
MAIN PARTICULARS
– HULL LENGTH: 14.75m
– OVERALL BEAM: 4.45m
– DRAFT: 3.2m KEEL DOWN, 2.5m KEEL UP
– DISPLACEMENT (EMPTY): 7760kg
– SAIL AREA: 138 SQM UPWIND + ~200SQM REACHING
– CONSTRUCTION: CARBON FIBRE INFUSED DECK, SPRUCE HULL
– BUILDER: JAN BRUEGGE AND MULTIPLAST
– DRAFTING: ADRIAN FERNANDEZ
– 3D RENDERINGS: SEB OLLE