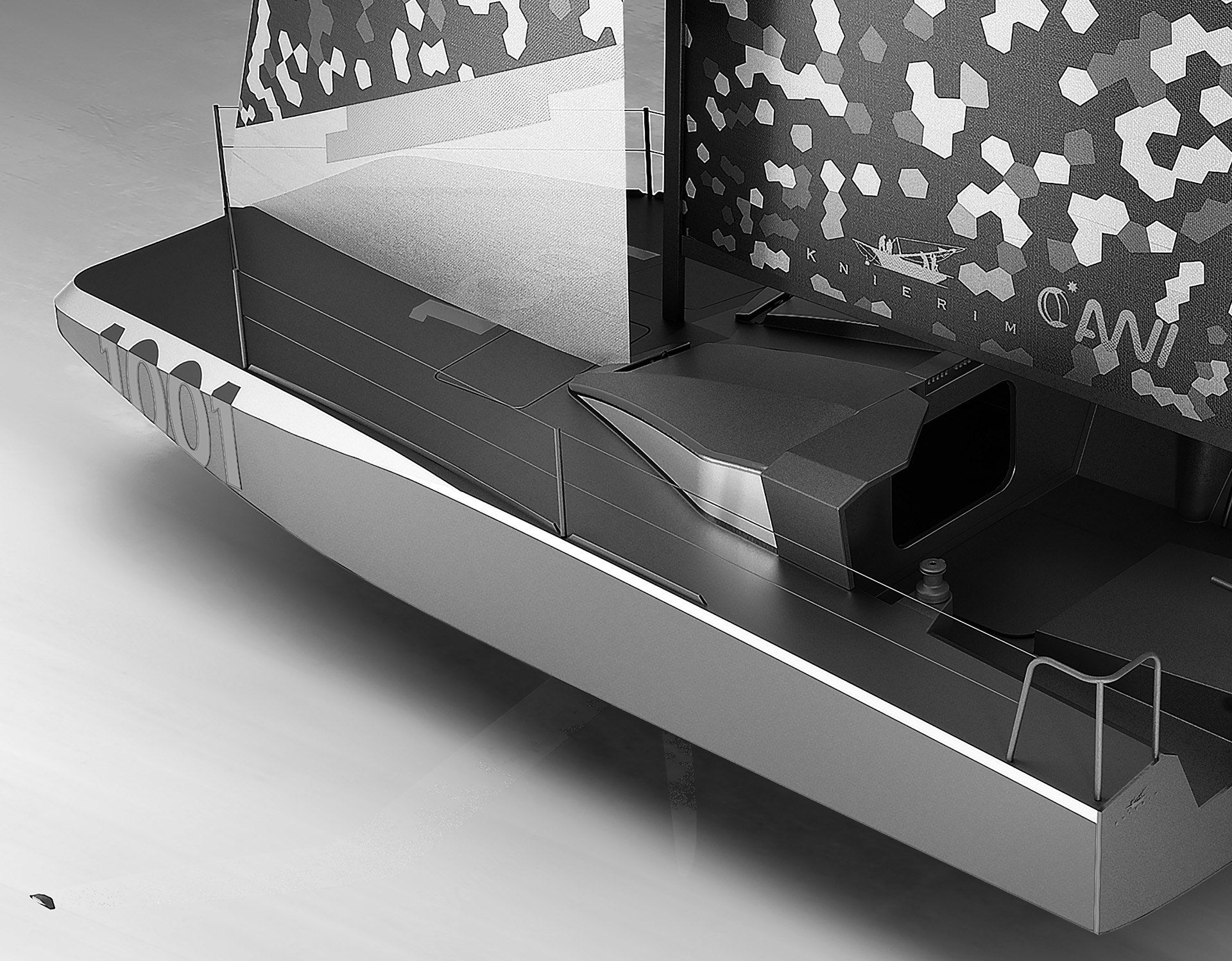 THIS PROJECT STARTED FROM KNIERIM YACHTBAU AND THE ALFRED WEGENER INSTITUT WHO WANTED TO DESIGN A FOILING MINI 6.50 WITH AN ADVANCED COMPOSITE STRUCTURE. WE WERE FORTUNATE ENOUGH TO BE LEFT FREE TO DESIGN THE BOAT WITH MINIMUM BUDGET CONSTRAINTS, COMPLETE FREEDOM AND AMPLE TIME. WHAT MORE TO ASK FOR?
THIS PROJECT IS THE FIRST OFFSHORE MONOHULL CAPABLE OF FOILING. PROJECT WAS THOUGHT FROM THE START FOR THIS PURPOSE, IN ALL ASPECTS.
ONCE CONTRACTED WE LOOKED AT VARIOUS OPTIONS FROM A FOILING POINT OF VIEW AND CONCLUDED THAT SURFACE PIERCING FOILS WERE THE MOST REALISTIC WAY AT THIS MOMENT IN TIME TO MAKE THE BOAT FOIL WITHOUT THE COMPLEXITY OF A HEAVE CONTROL SYSTEM.
WEATHER ROUTING STUDIES MADE IT CLEAR THAT FOILING WAS POSSIBLE ONLY IN SPECIFIC CONDITIONS.
WE THEREFORE DEVELOPED A UNIQUE FOILING ARRANGEMENT WHICH CAN BE FULLY REMOVED WHEN NOT FOILING TO REDUCE WETTED SURFACE AREA. FOIL IS HOUSED IN A CASE WHICH CAN BE ROTATED IN 3 DIRECTIONS (4 DOFS BOX)
A SINGLE 2 STAGE DAGGERBOARD PROVIDES ENOUGH AREA WHEN SAILING UPWIND AND CAN BE RAISED WHEN FOILING, WITH ONLY THE EQUIVALENT OF A WINDSURF AILERON REMAINING IN THE WATER.
THE SCOW HULL SHAPE WAS FAVOURED AND RATHER FULL SECTIONS DEVELOPED TO FACILITATE EARLY TAKE OFF. TAKE OFF SPEED BEING A CRITICAL FACTOR DUE TO THE RELATIVELY HIGH DISPLACEMENT OF MINI 6.50 RELATIVE TO HULL LENGTH.
FURTHER GAINS IN WETTED SURFACE AREA WERE MADE BY USING A DEEP CENTRELINE RUDDER AND ELEVATOR.
THE ELEVATOR ANGLE OF ATTACK CAN BE ADJUSTED FROM THE COCKPIT, THIS IS A FIRST ON A MINI 6.50. WATER BALLASTS WERE REMOVED TO SAVE WEIGHT, THE ELEVATOR CAN BE USED INSTEAD WHEN NOT FOILING TO ADJUST TRIM WHICH HAS FREED SOME MORE OPPORTUNITIES IN TERMS OF HULL DESIGN.
THE CONSTRUCTION HAS BEEN A MAIN TOPIC OF THIS PROJECT AND TO THE BEST OF OUR KNOWLEDGE THIS PROJECT IS THE ONLY "PROTO" BUILT FROM CARBON PREPREGS WITH A NOMEX CORE ONTO FEMALE MOULDS. THE LIGHTEST METHOD AVAILABLE. WE PROPOSED A DENSE NETWORK OF CONTINUOUS STRINGERS TO FURTHER REDUCE HULL WEIGHT WHICH IN THE END IS LAMINATED WITH ONLY 200GSM ON THE INNER SKIN AND 400GSM ON THE OUTER SKIN, WITH ADDITIONAL REINFORCEMENTS IN HIGHLY LOADED AREAS.
INSIDE, A NEW KEEL STRUCTURAL LAYOUT AND FOILING ARRANGEMENT WAS DEVELOPED WHICH LEAVES A FORE AND AFT PASSAGE ON PORT AND STARBOARD AND CONCENTRATES ALL MANOEUVRES IN THE CENTRE TO FACILITATE CREW AND SAIL MOVEMENTS. SPACE OF COURSE REMAINS NEVERTHELESS RATHER CRAMPED DUE TO THE LOW HULL FREEBOARD (AT RULE MINIMUM).
DECK LAYOUT WAS DEVELOPED TO SIMPLIFY THE BOAT AS MUCH AS POSSIBLE WITH AN EMPHASIS ON CONTROLLING THE POWER OF THE MAINSAIL EASILY: A CRITICAL ASPECT FOR A FOILING YACHT WHICH HAS A NEAR FLAT DYNAMIC STABILITY CURVE.
MAIN PARTICULARS
– OVERALL LENGTH: 6.50m
– OVERALL BEAM: 3m
– CONSTRUCTION: CARBON FIBRE PREPREG AND NOMEX CORE
– BUILDER: KNIERIM YACHTBAU
– DECORATION SCHEME: TYPHENN MESNY
– RENDERING: SEB OLLE
– DRAFTING: ADRIAN FERNANDEZ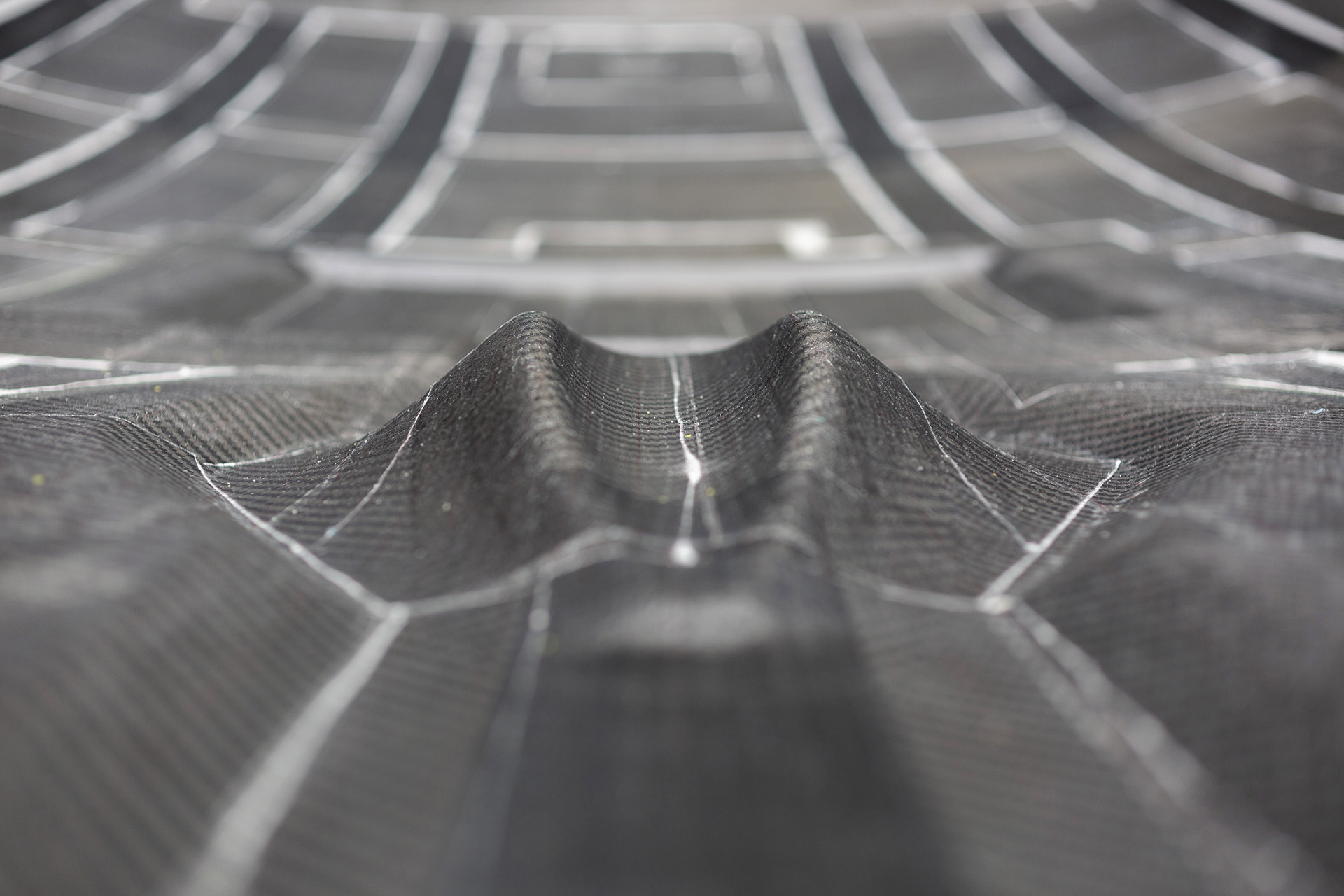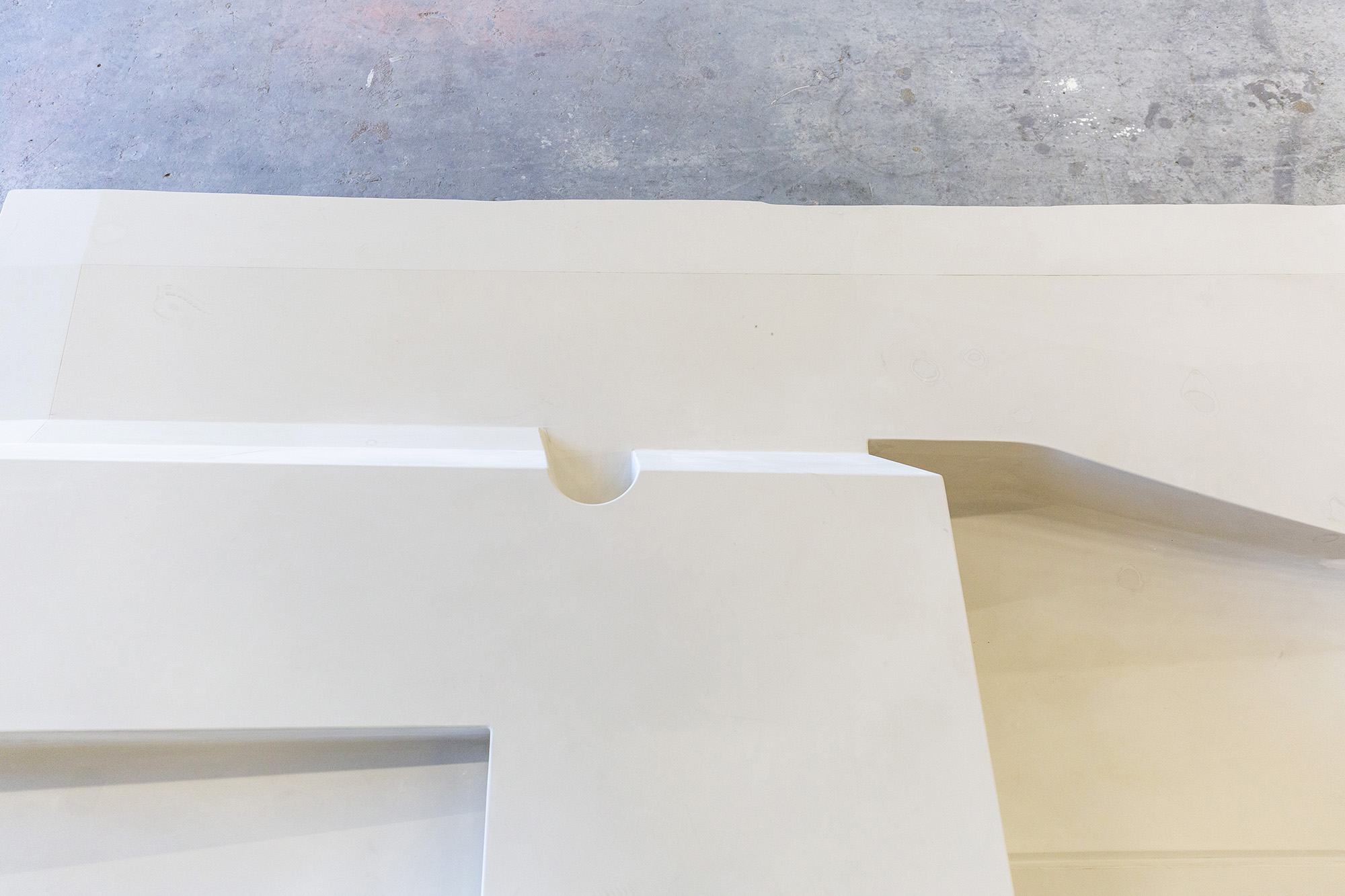 PHOTO CREDIT – EMERIC JEZEQUEL